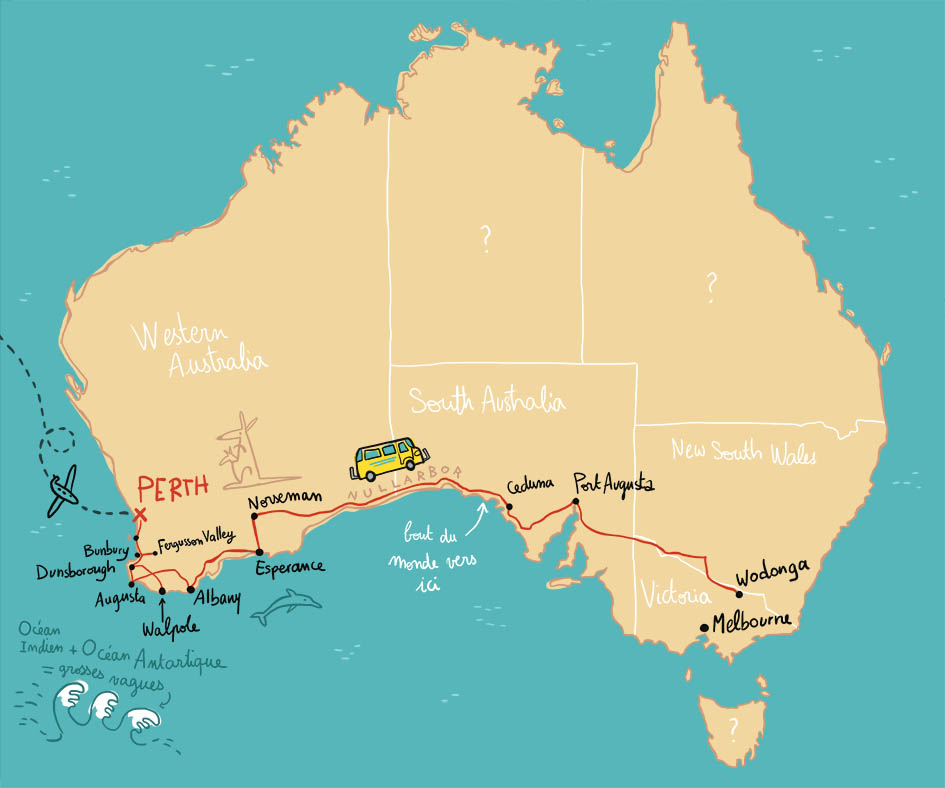 A quick summary !
Before leaving for Australia it was planned to set up a blog to tell you our stories…
But the rush of the departure (booking a dirty cheap hostel in Singapore at midnight with our bags just ready for leaving 4 hours later) and our arrival have a bit compromise our plans about the blog. And then we have been quickly caught by our new life of half nomad, ready for discover Australia and its amazing people.
Five months later here we are !
Before writing articles on special topics, here is a quick summary of our last five months.
– The 30 hours stop at Singapore, a night in a moldy hostel (like really moldy, all the walls were full of mushroom and the air con was blowing a humid sticky air ), and the discovery of the two very different sides of this sweltering city.
– 3 weeks moving from youth hostel to airBnB renting, from Perth to Rockingham through Thornlie, dealing with administrative stuff, meeting the Australian bro (Sylvain) and doing BBQ in public parks, visiting Fremantle and discovering wildlife and local beer.
– One month in Fergusson Valley, doing HelpX at Jenni's et David's. A first experience that we are not going to forget : Jenni's studio, the boat races with the yacht club, the new fresh veggie patch, Sophie and the snake, our first kangaroo, our first bull ants and the gnome invasion in Gnomesville.
– 2 weeks of house sitting at Bunburry for Christmas and new year eve with the exiled bit of family there and finding a van for our next adventures.
– A big month at Dunsborough for a new amazing HelpX experience, meeting Graham and Shirley, with the big goal of setting up the van in a fancy 5 stars flat.
– A one week break at Walpole helping Albert on his house building site.
– A big month on the road testing our new  van and being amazed by each corner that we discovered : from Cap Naturaliste to Cap Leeuwin, Augusta to Manjimup and the 51 meters high stop of the Diamond Tree !
– A bit more than 2 weeks in Frankland River, meeting Clémence, Lee, Charlotte et Emile, a very happy French-Australian family. Some work for Ben training vignes, a new desk for Alice working on the illustrations of a new book.
– One nomad week around Albany, to take advantage of the free wifi of the library, working for Alice, finding a new house sitting on the other side of Australia, putting new tires and services the van, visiting and discovering this beautiful area.
– Some days around Esperance taking more eyeful. Turquoise water, Cap le Grand and its white sand, kangaroos and dolphins.
– 7 days for reaching the other side of Australia. More than 3000k of sealed road (Paris-Moscow by road is 2828 km, to imagine how big is it for European people). Crossing Nullarbor : 1200k of desert which seems to never end : no relief, not even a tree (hence the name). Raven who snappend the bits of kangaroos in the middle of the road, like a scenery of the end of the world.
And here we are in Wodonga in Victoria, where we keep a house in a little suburb with electricity and unlimited internet for allowing Alice to finish her work and for Ben to setting up this cool blog !

See you soon !