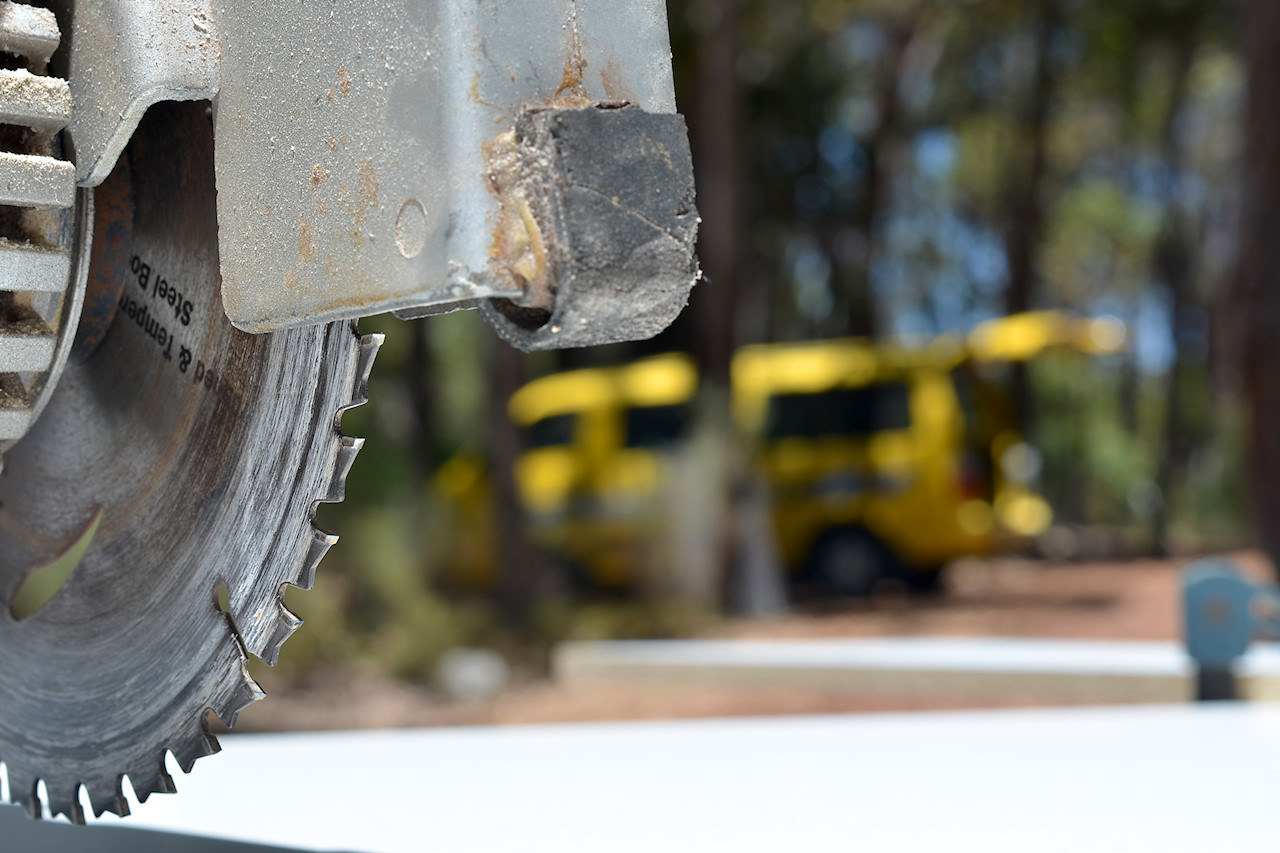 1
A cosy nest
Setting up our van was one of the first big steps of our trip. It was going to affect all that followed. We spent a pretty intense month on it. We'll tell you about it.
End of December 2014. We begin by picking small adverts looking for a van or utility but we soon find out that few vehicles meet our criteria : Diesel fuel (ideal for big distances) and under 200 000 km ( An quite new trick, no history of breakdowns and ability to resell easily)
Finally we settle our choice on a KIA PREGIO (said to have low fuel consumption and a little bit on the good advice of Claire and Jeremy of Sound-wave on the road) distinguishing mark : Chicken yellow !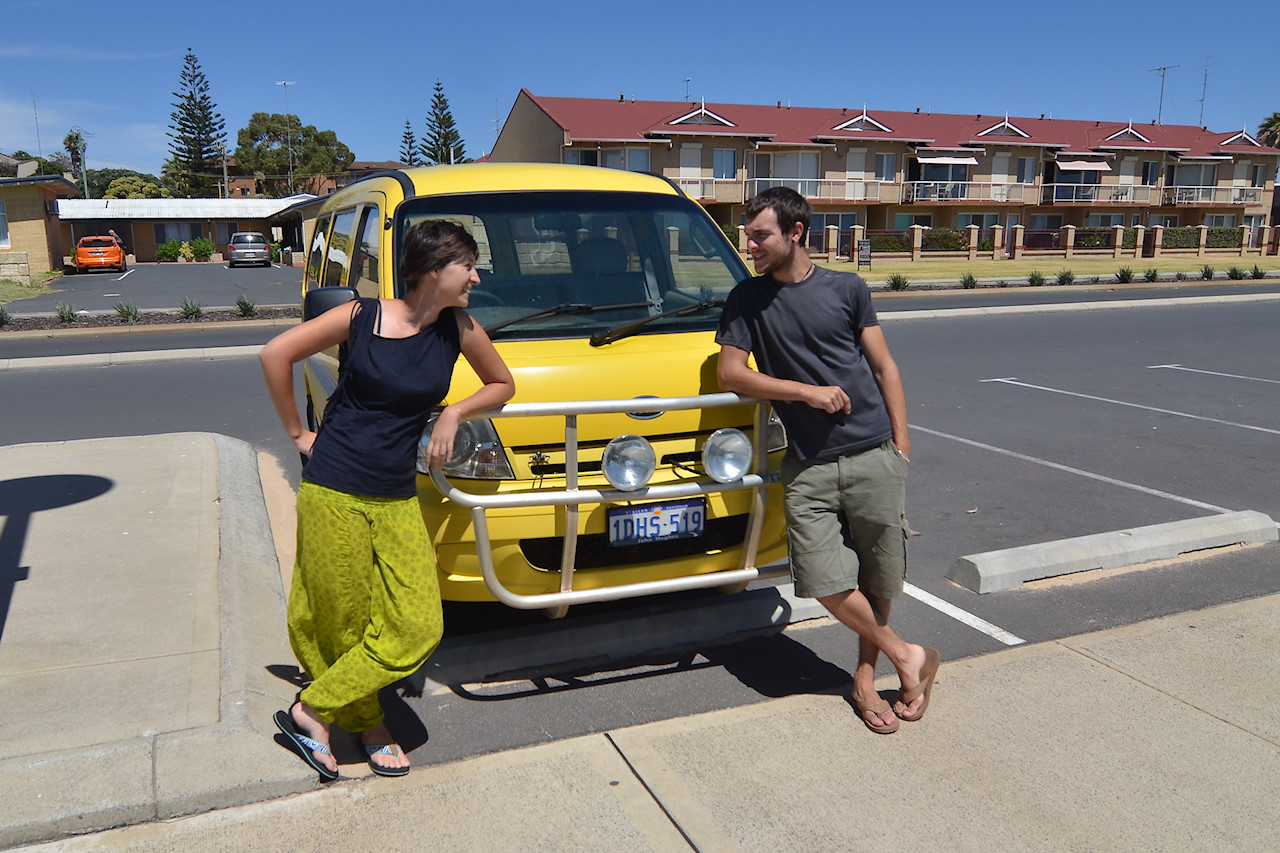 The Christmas holidays come to an end. We clean the house that we looked after during the holidays, drop Sylvain at Bunbury rail station and take the road south to a new helpX.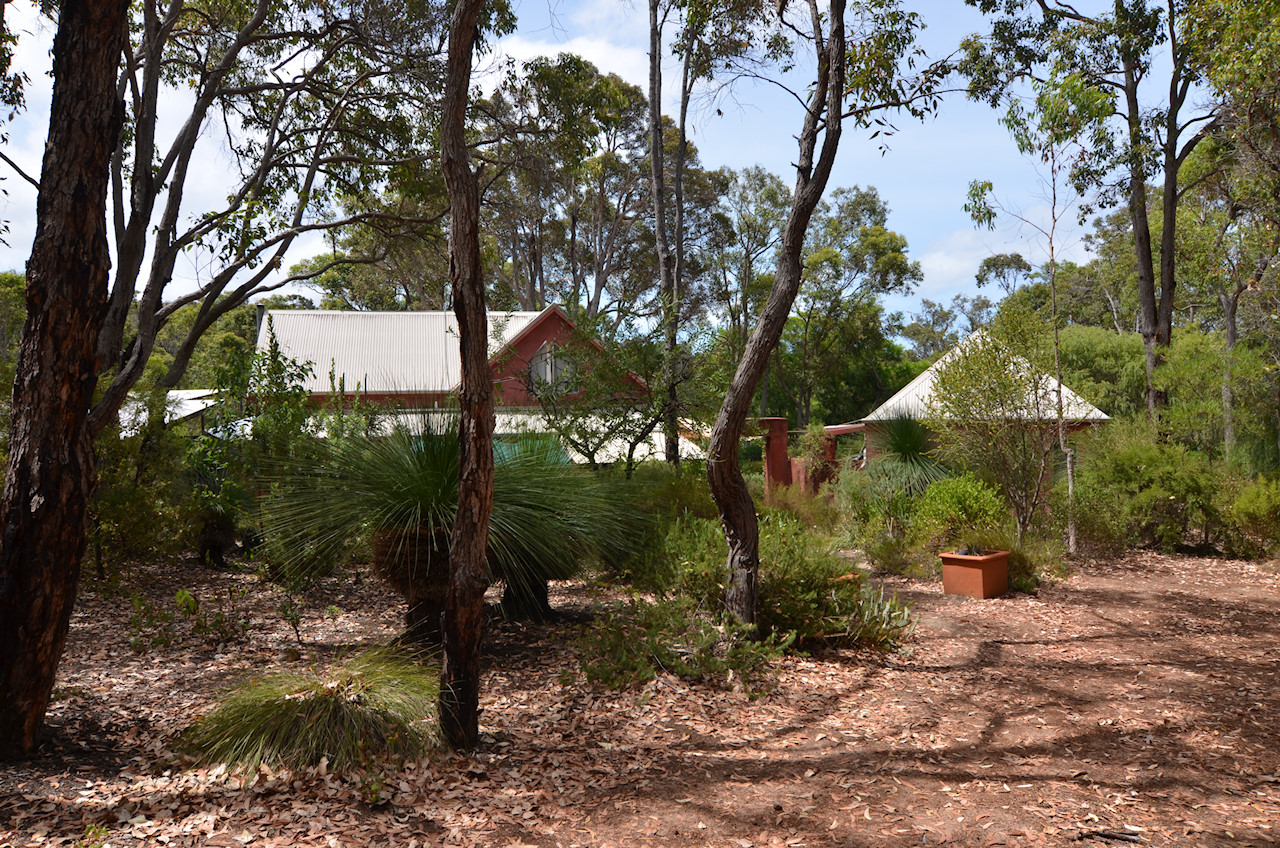 Graham and Shirley welcome us in the hills of Dunsborough, a little seaside resort 250 km south of Perth. We find to our surprise that Graham is a great handyman, his garage is huge, filled with all possible and imaginable tools. We could not have dreamed of anything better for our project !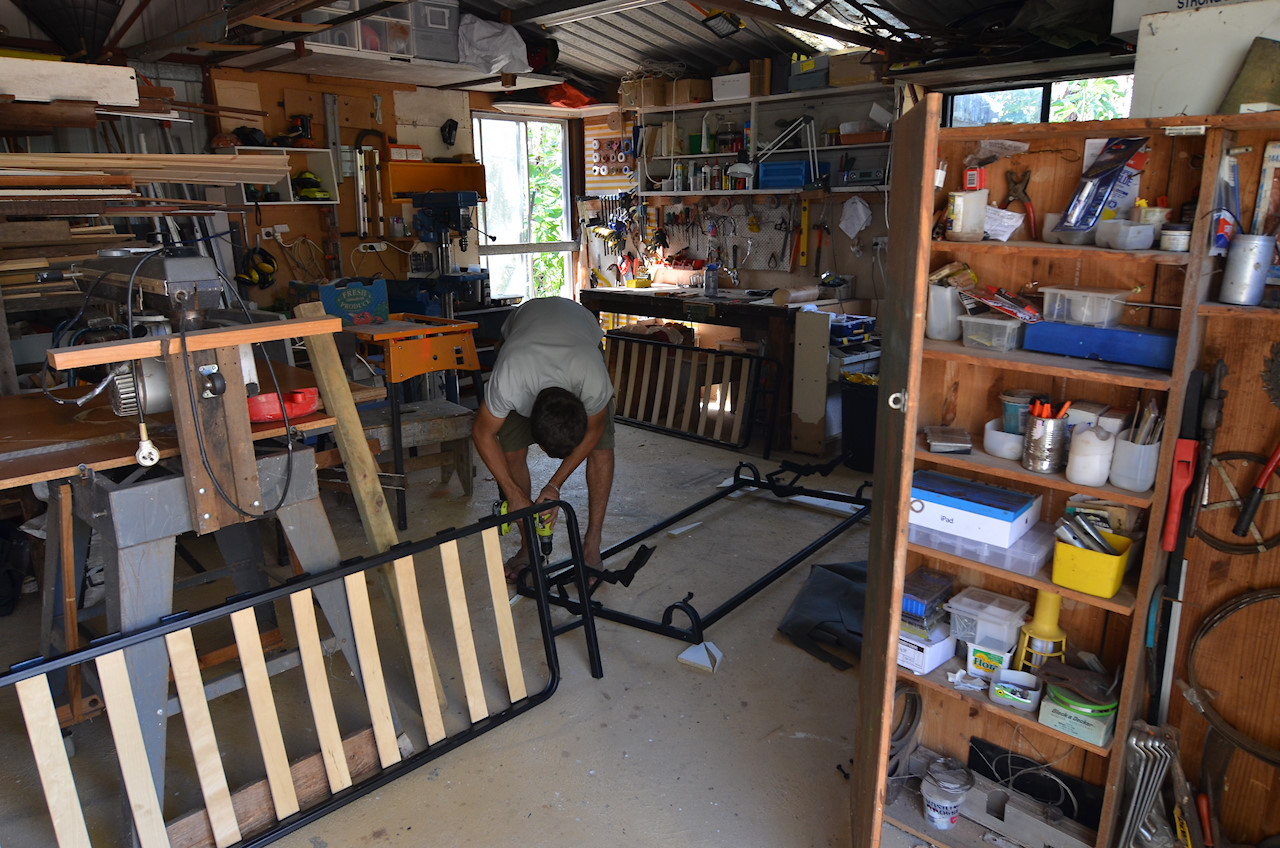 In the mornings we help in the house, the garden and vegie patch. By 11.00 am we are free. And that's good, we have a house on wheels to conceive !
Look for ideas and examples on the internet, take the dimensions of the van, overall diagram, then detail for each section, electric and cabling diagram, then shopping lists and costings. Three days of intense intellectual effort ! We were really inspired by an article in the forum Australia-Australie that we adapted to our needs.
We're off ! We roll up our sleeves to strip out the Grey and Greasy carpet. We give it a good mopping.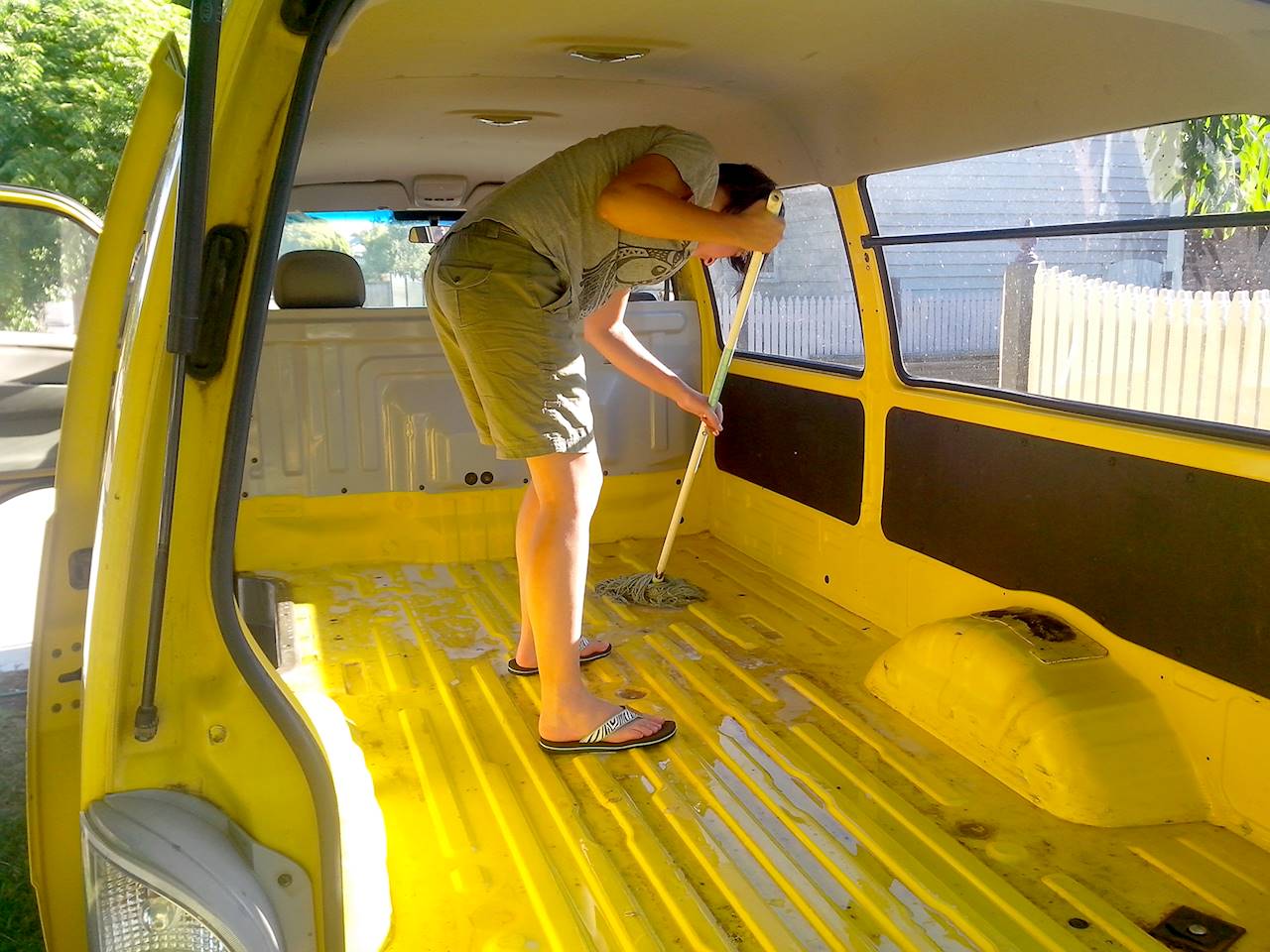 The van is all clean, so we can launch into the construction. We cut out a floor of many pieces of wood, (chamfered if you please for the door and rear end) using the original filthy carpet as a guide.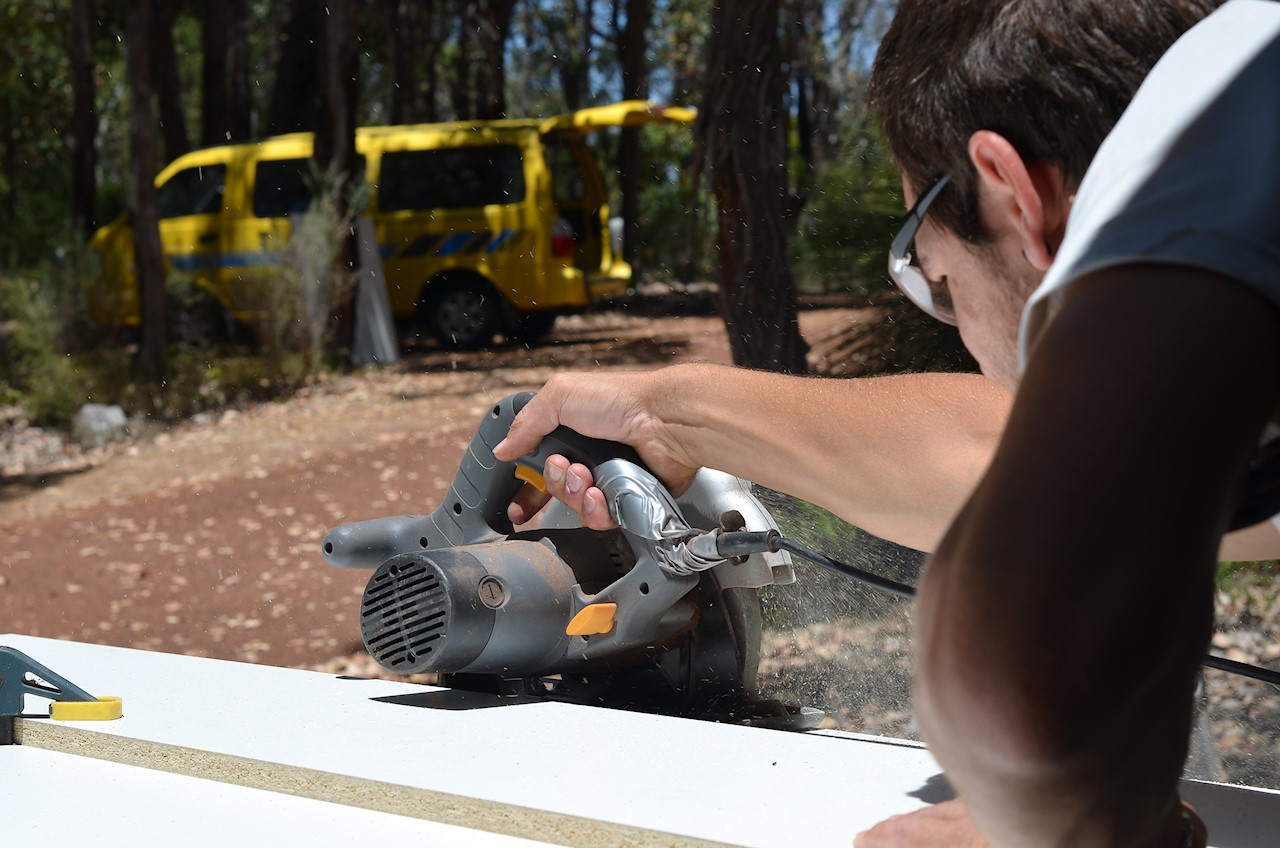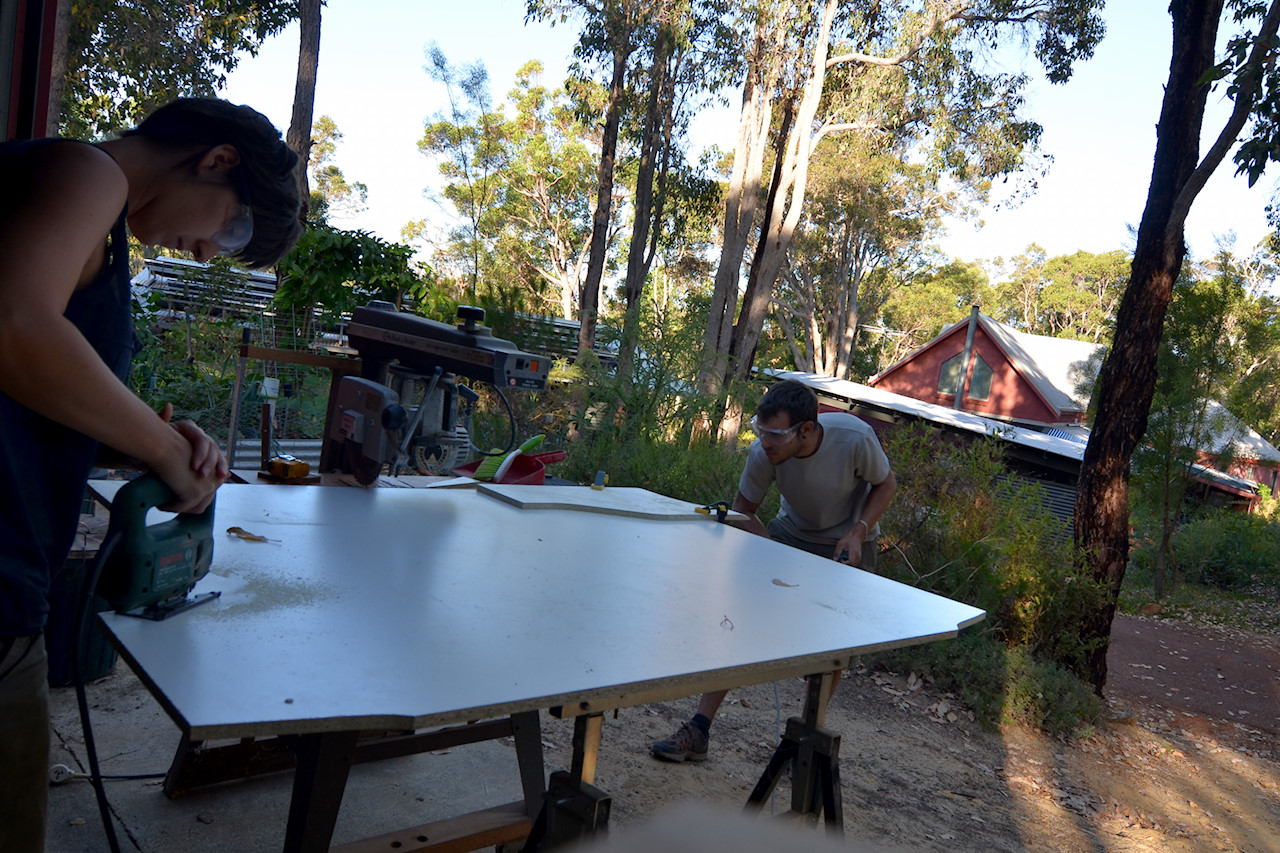 Assembly and joining with white silicone, then cutting and gluing the lino that covers it all.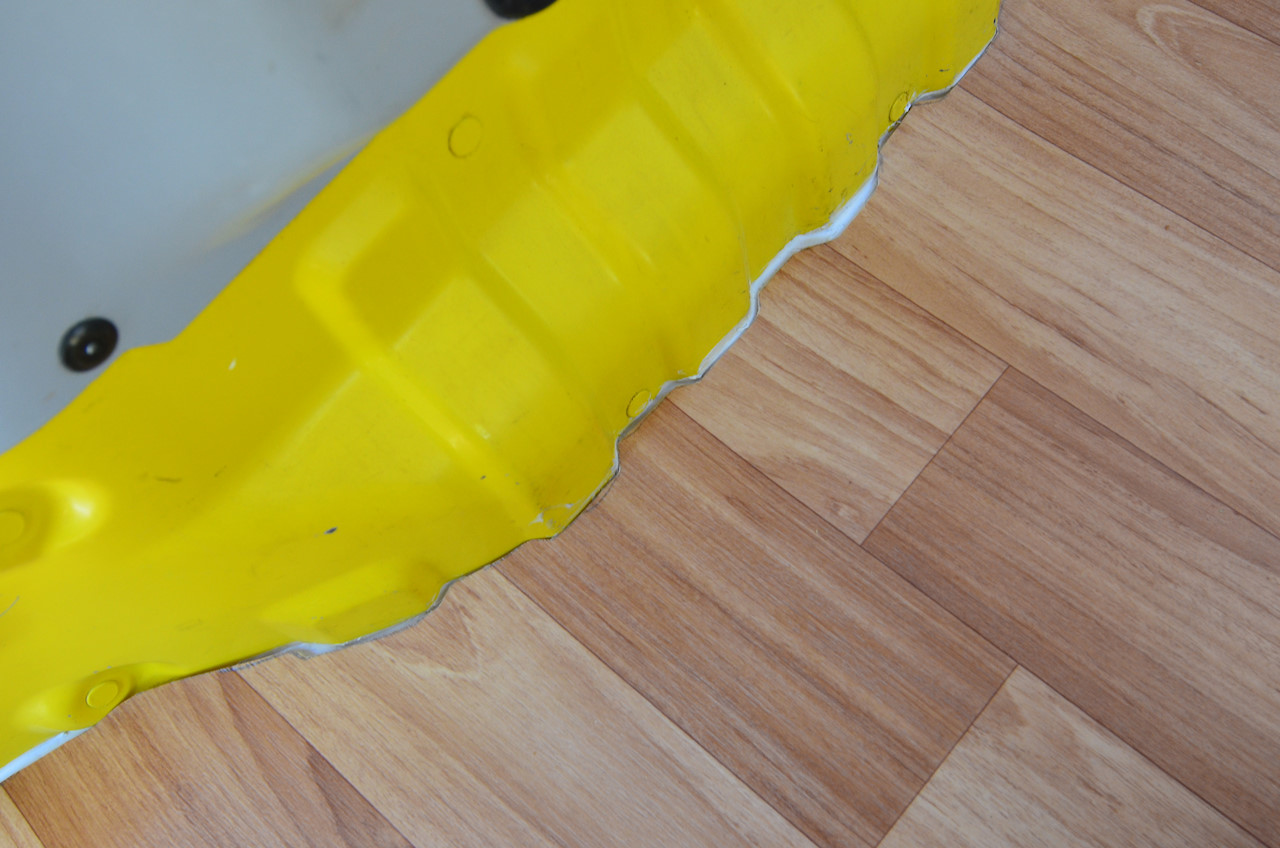 For the bed we have found the convertible system most practical : bed in the open position and couch in the closed (without needing to change the bedding each time as in some models). We buy a second-hand convertible couch on Gumtree. We cut off the legs to fit it on a box base and Tarrah ! … We had a good storage space underneath.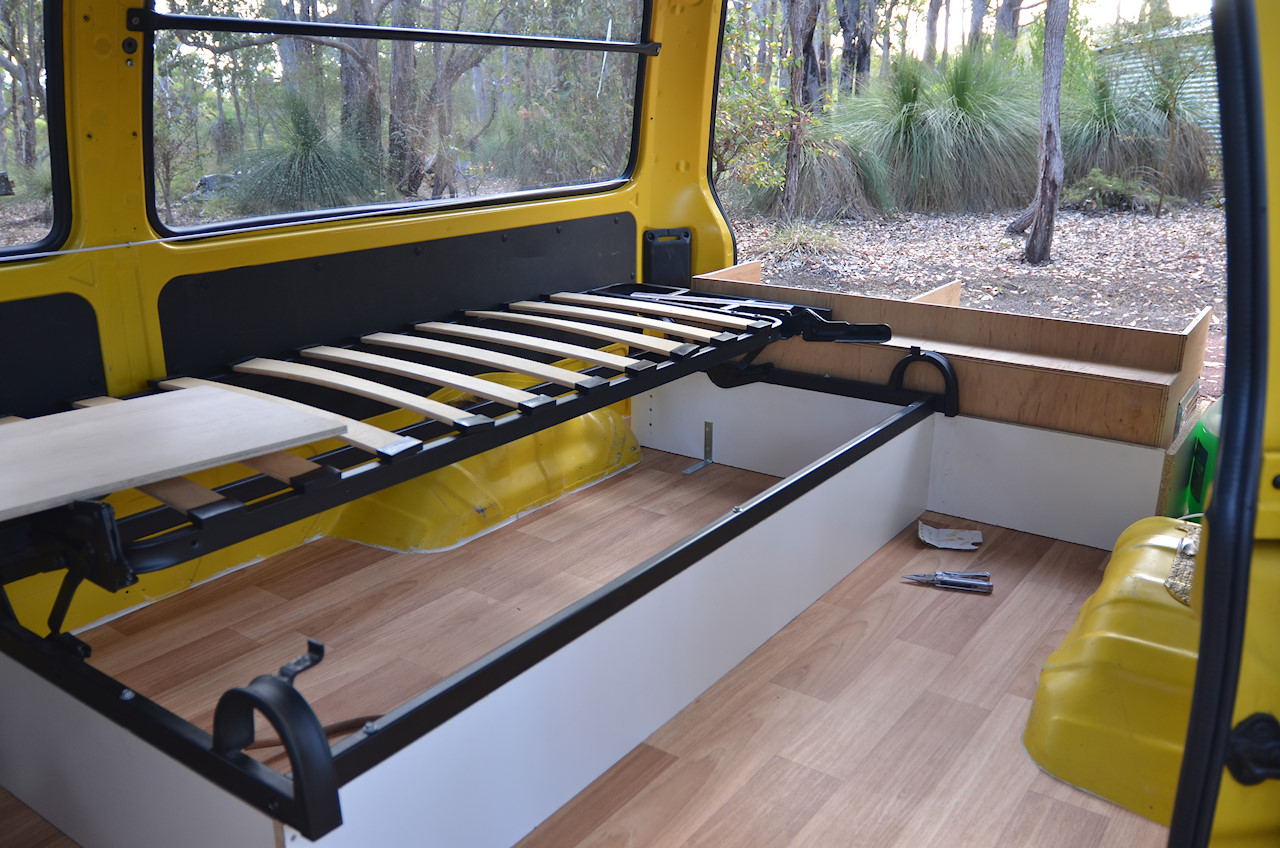 On the kitchen side we opted for a sliding system that goes under the bed so we do not lose space.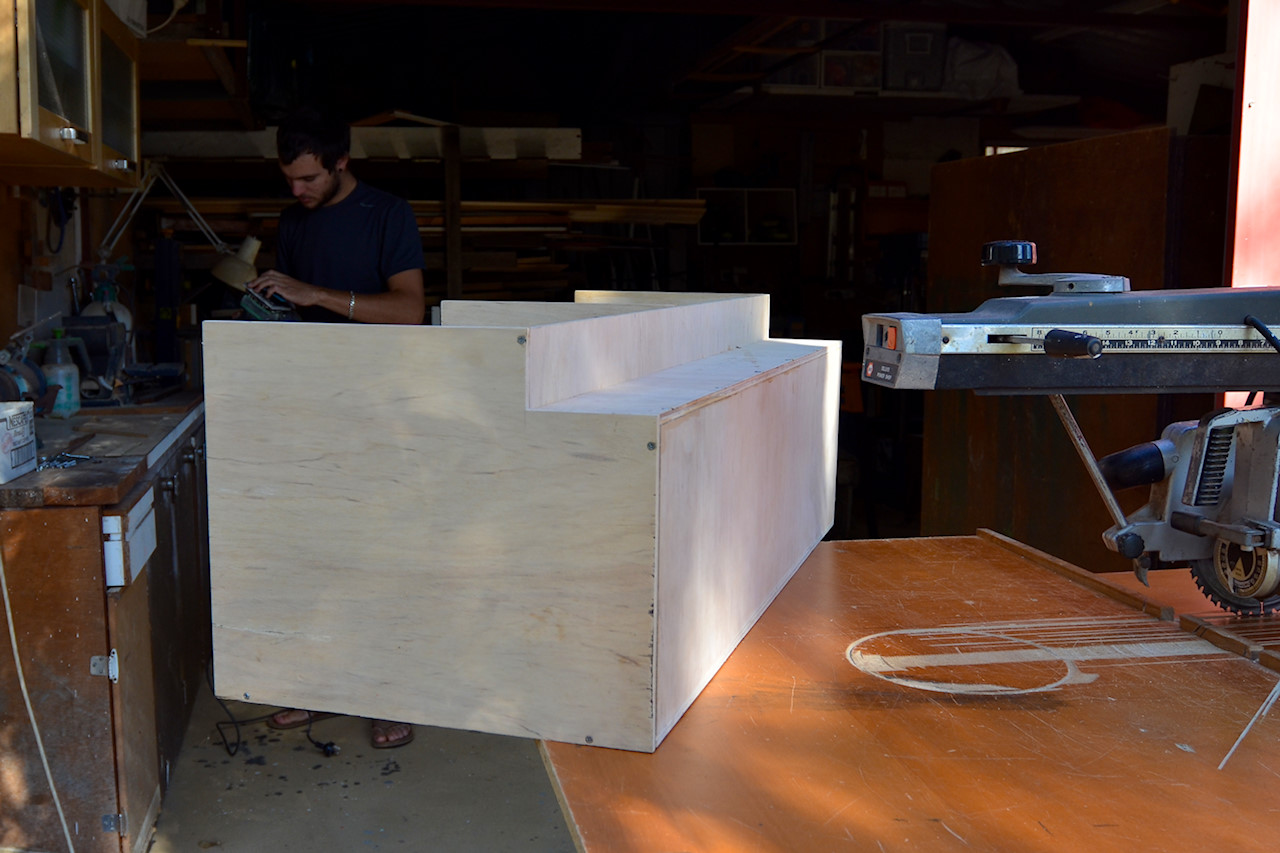 The fauna keeps an eye on us, but we are not worried…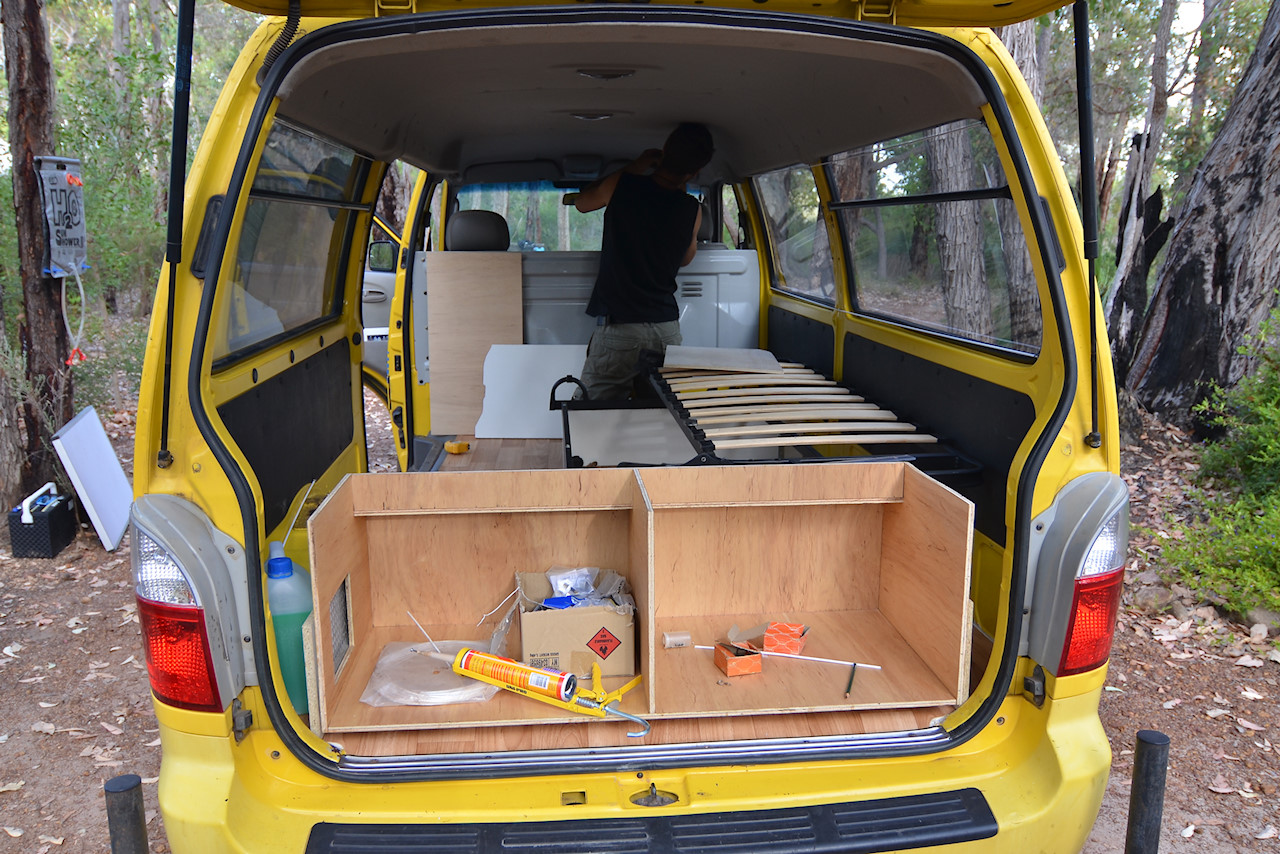 Making a work-top and cutting a hole for the sink (Think stainless steel salad bowl).
Note the ventilation holes for the future fridge (which provided privileged access for mosquitos after installing mosquito netting…)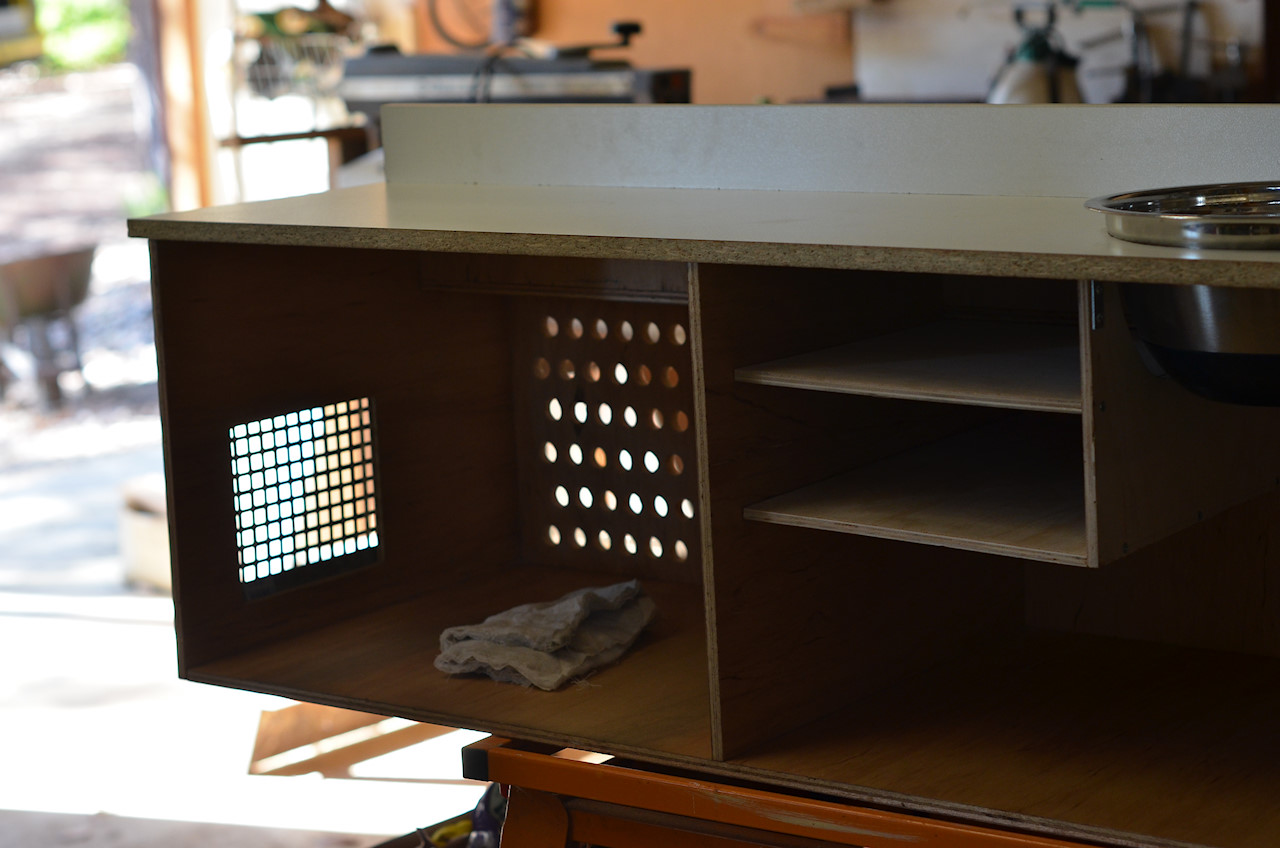 An old shower arm for the tap.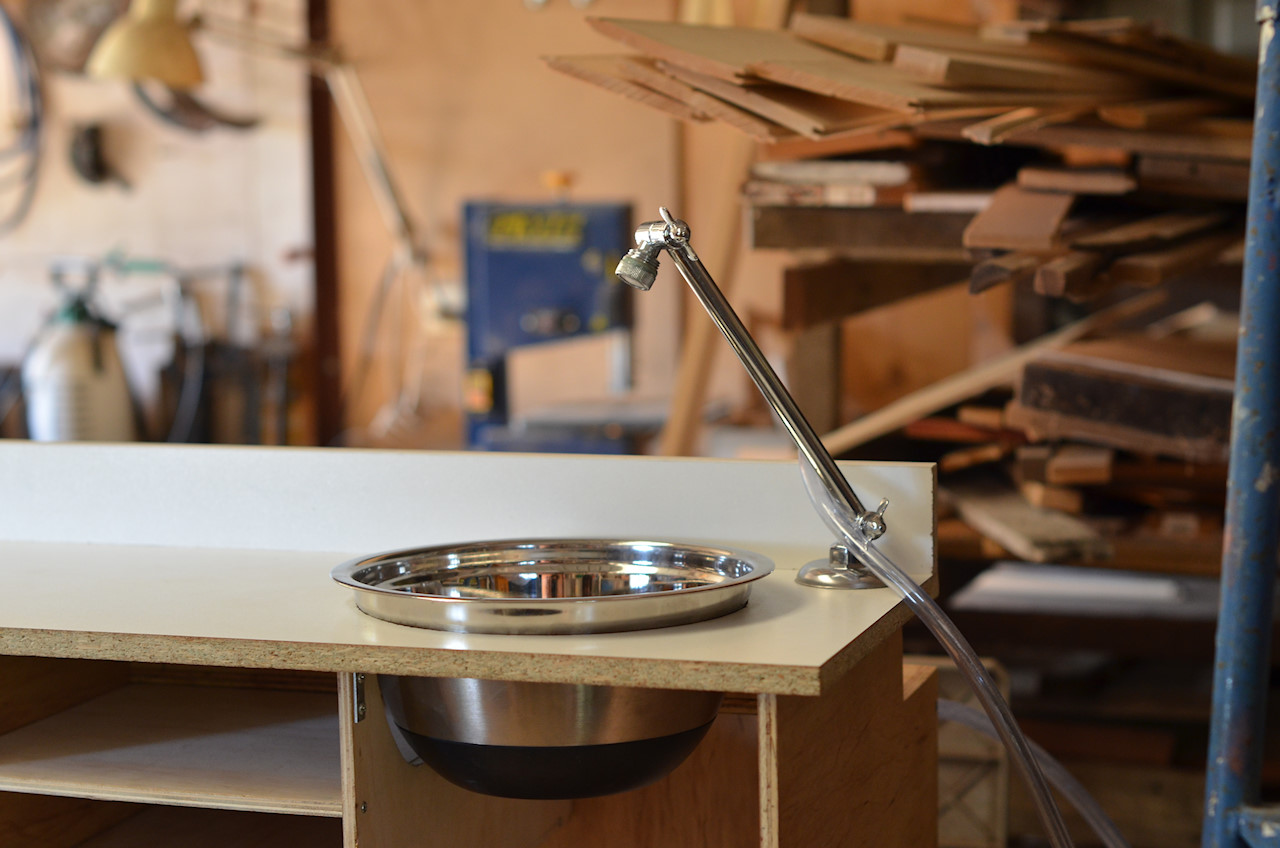 Graham and Shirley were upset to see us spending all our free time building. We should go walking, explore the area or go to the beach ! The area is splendid and we spent more time on our jobs than expected, but that is the price to pay for a certain freedom. And anyway, we enjoyed it !
One evening we meet Albert, a friend of our hosts. He needed a helping hand on his home under construction nearly 300 Km south of here. We haven't finished the van and it does not suit our plans but it's a chance to make some money so we accept.
After several days spent painting walls and ceilings of his unfinished house he has to leave and suggests we stay and camp on his place as long as we like. Between Alberts work in progress and the work in progress of our van we taste the uncertain joys of camping.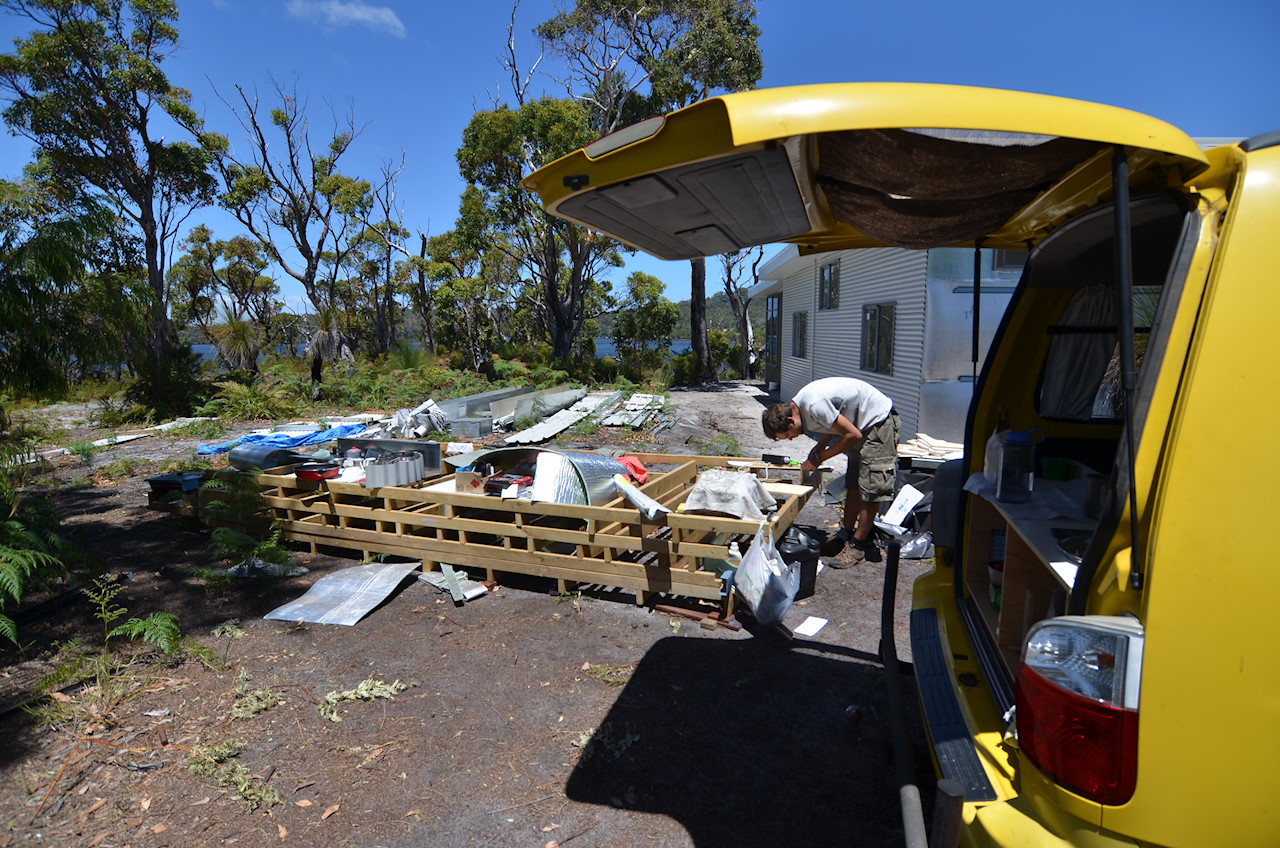 A week of struggling with a Leatherman as the only tool, taking cold showers (with a spectacular view over the neighbours sure, but in a glacial wind)… we realise all this is not efficient.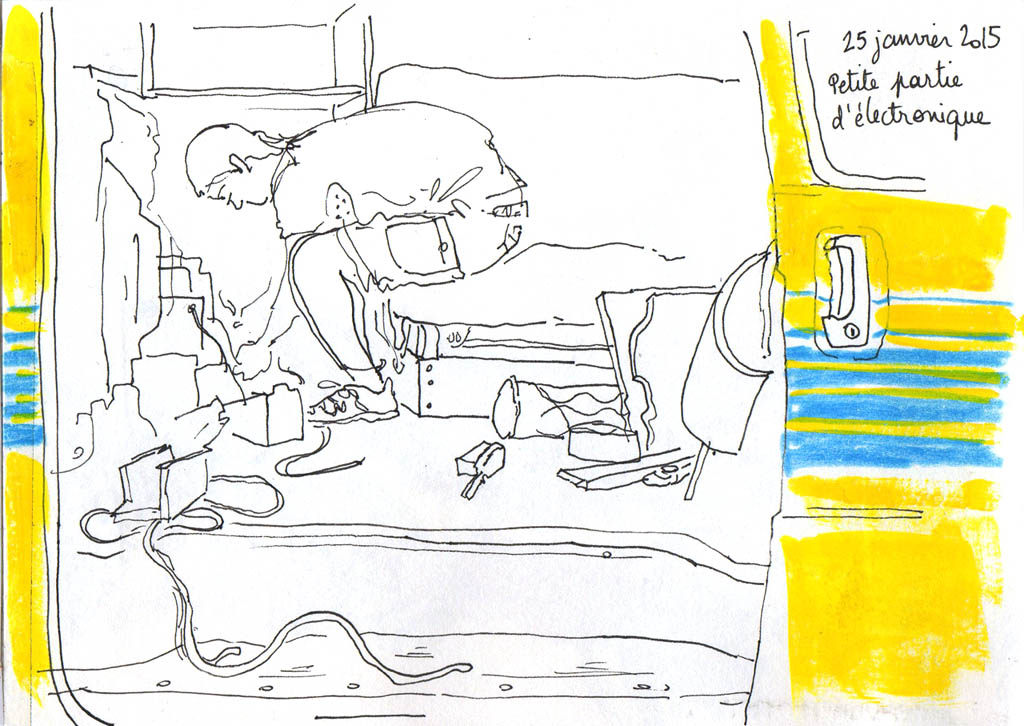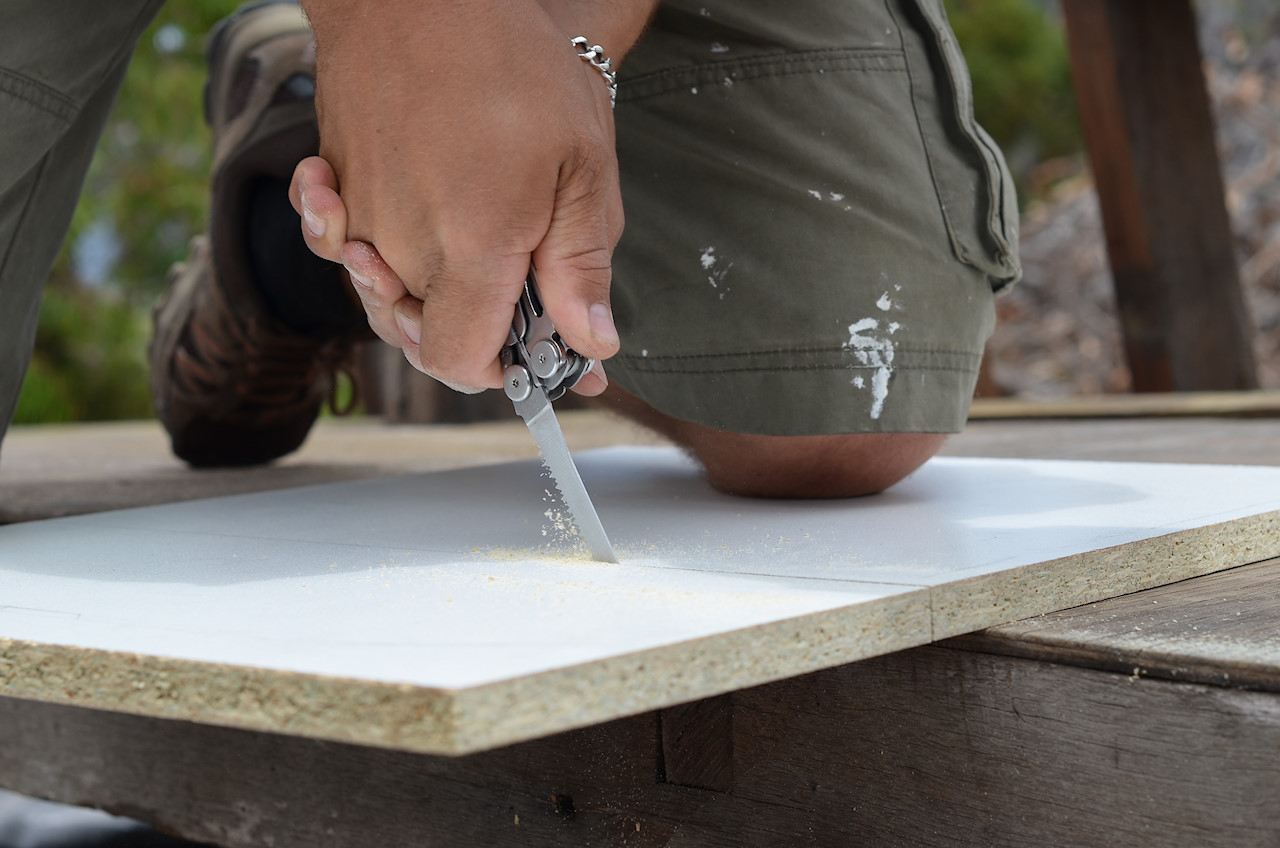 So we impose on Graham and Shirley's kindness and return to spend a few days with them to gain the comfort of the garage and all the tools.
Now we could get to serious stuff : the electricity. I have to get back to fundamentals, the tale of making a proper and safe installation (choice of cable diameters according to load and length, fuses changed…) The whole installation works off a 100 Amp auxiliary battery linked by a coupler to the motor's battery. This way, when the motor is turned off the auxiliary battery is used automatically, but when on the move it recharges.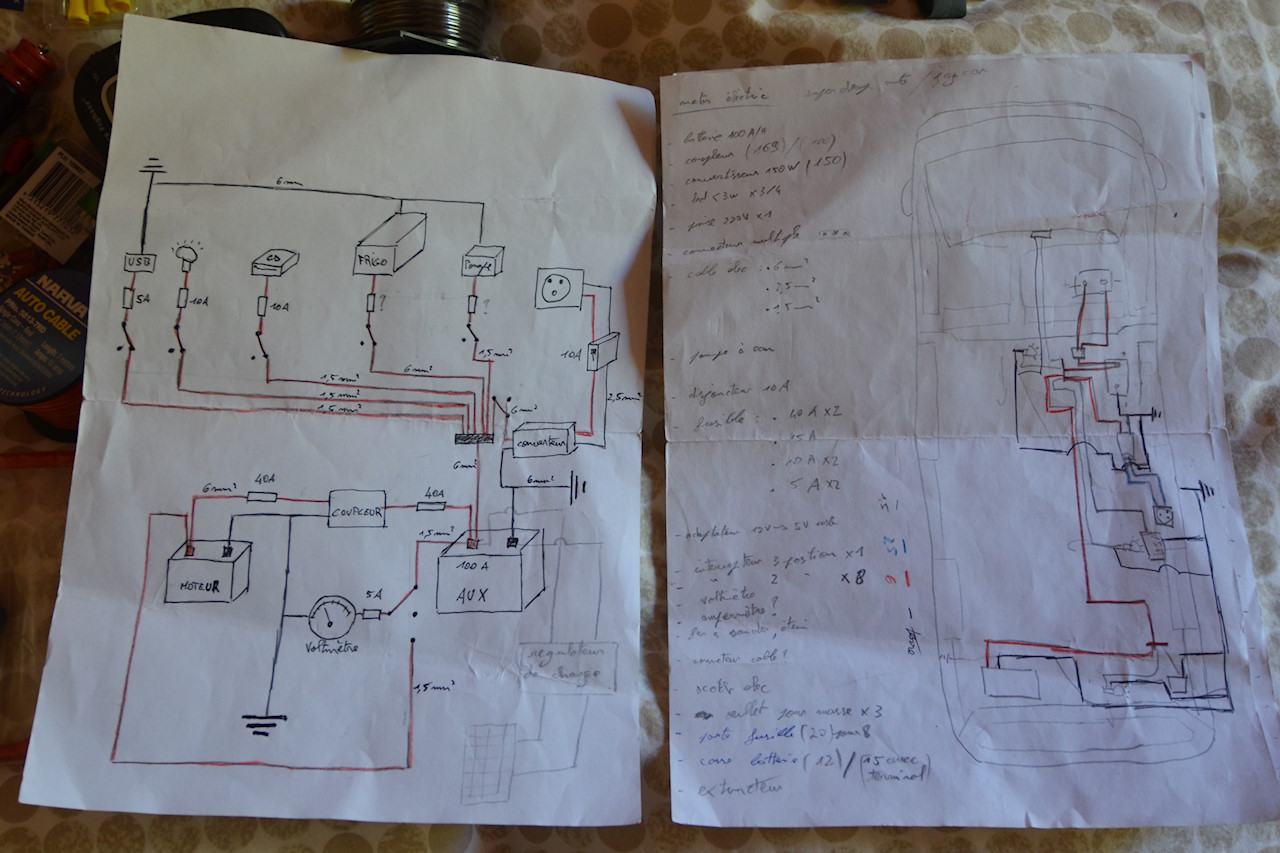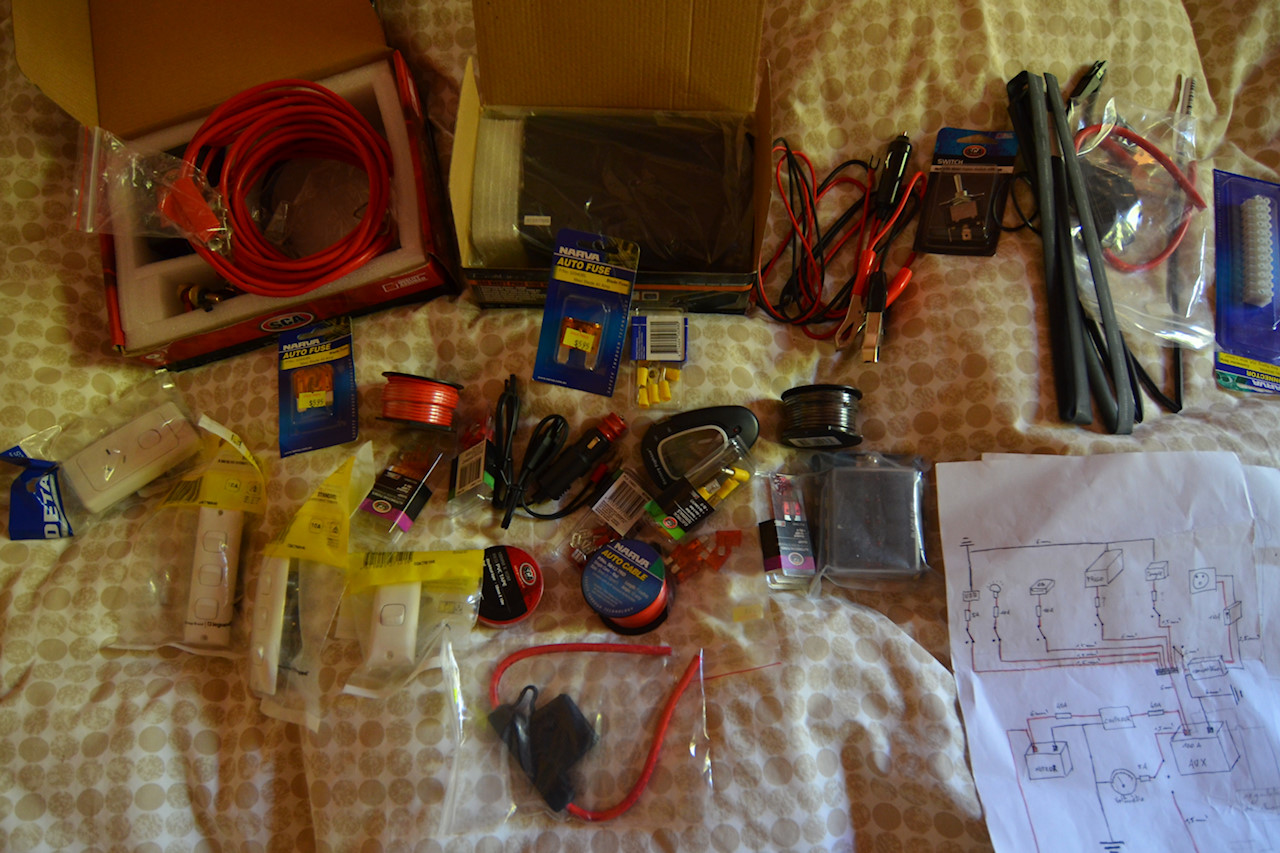 Old fashioned soldering…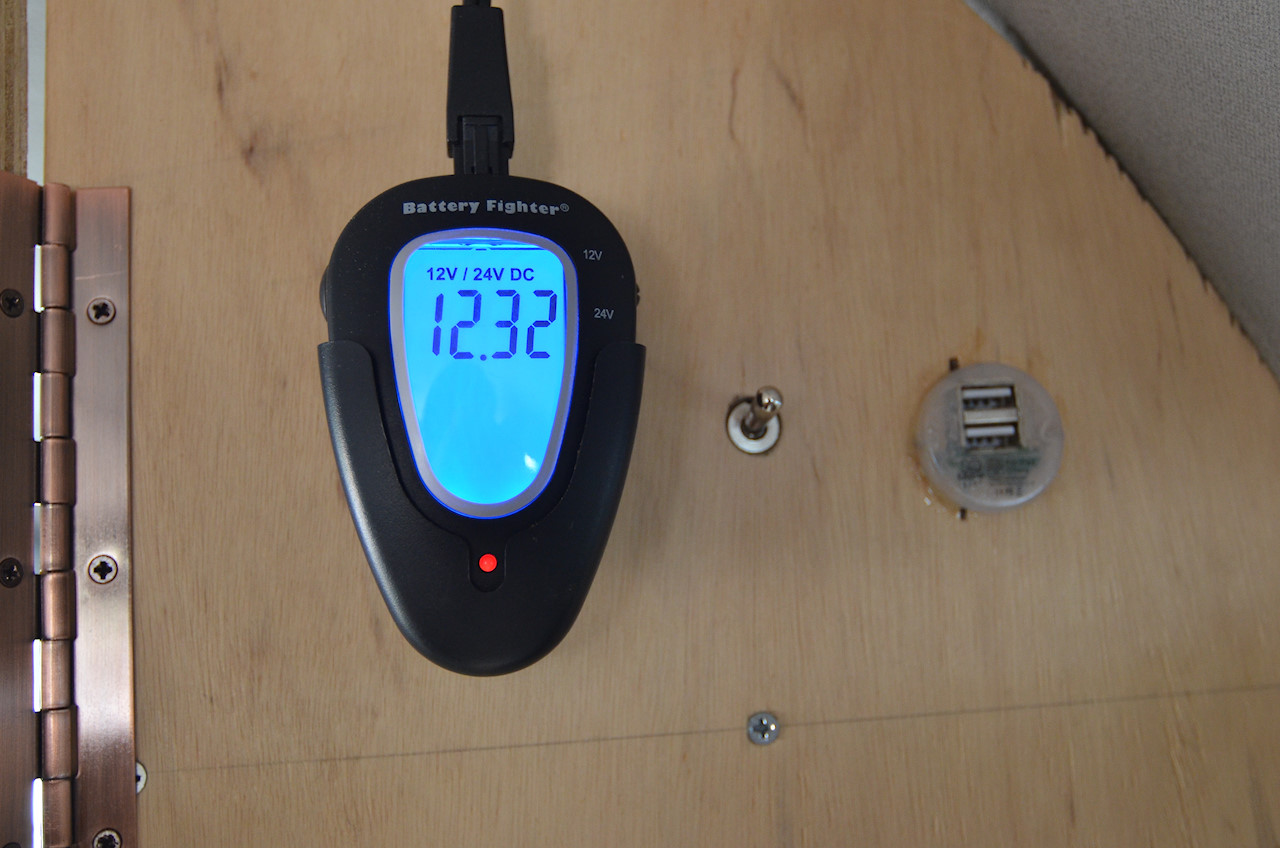 Nevertheless we take some breaks to dive into turquoise water of the sea, borrow masks and snorkels to see the fish. One afternoon Graham and Shirley take us for a canoe trip. We picnic on the beach and watch the sun set.
The van begins to look attractive. We hang ready-made curtains from Alice helped by Jenni and Robyn in a special insulating cloth.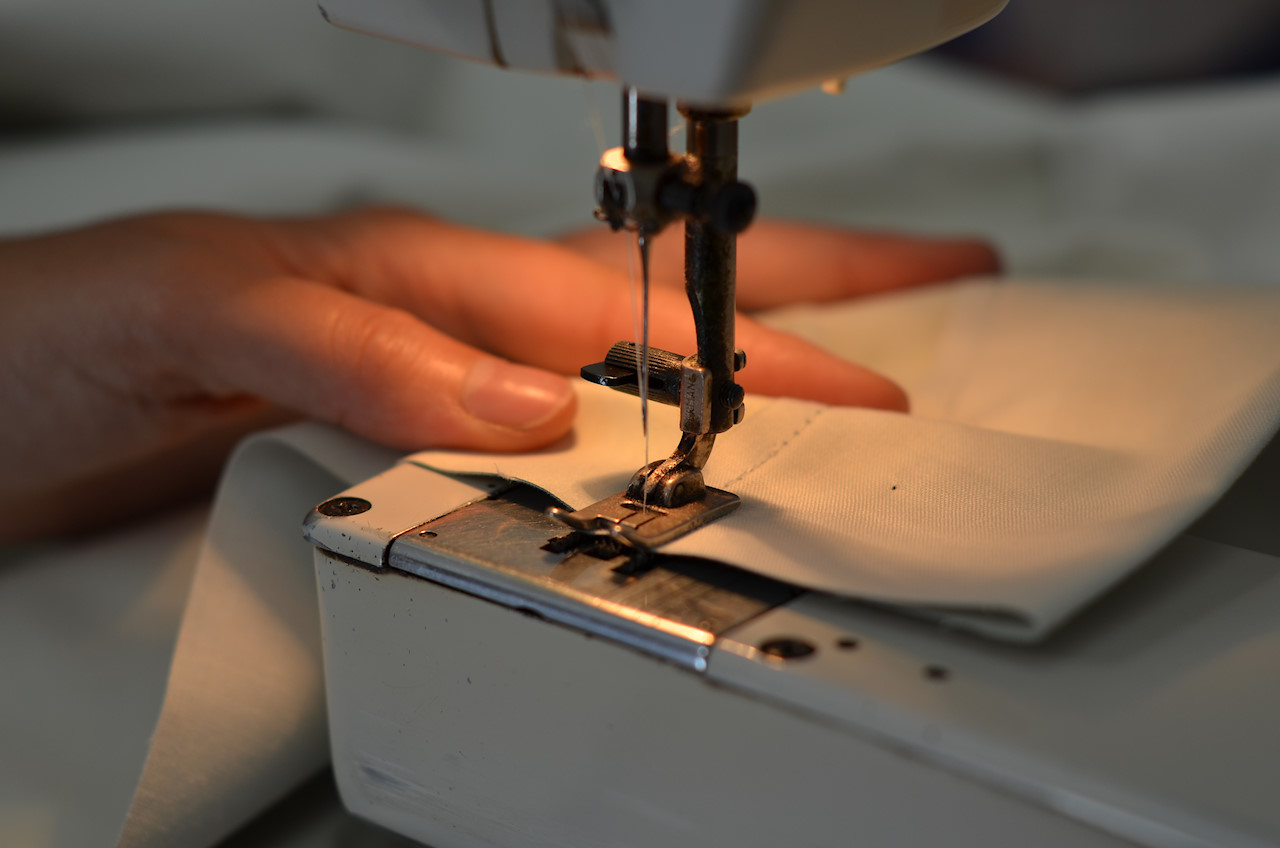 The box opposite the bed ( whose lid becomes the table when open) was made a bit later, with just the Leatherman. It does the job but we would not use it every day.
This adventure would have been very different without Graham and Shirley who gave us a lot during the three weeks we spent with them. A big thank you too to Jenni and Robyn for the sewing and Robyn's Mum for the curtain material and Albert for his generosity.
We were all the same glad to have finished and a bit proud of the result too. We must say it had style, our yellow van. (we will still tweak some details on the way, magnetic spice holders, gumnut cupboard knobs, mosquito netting…)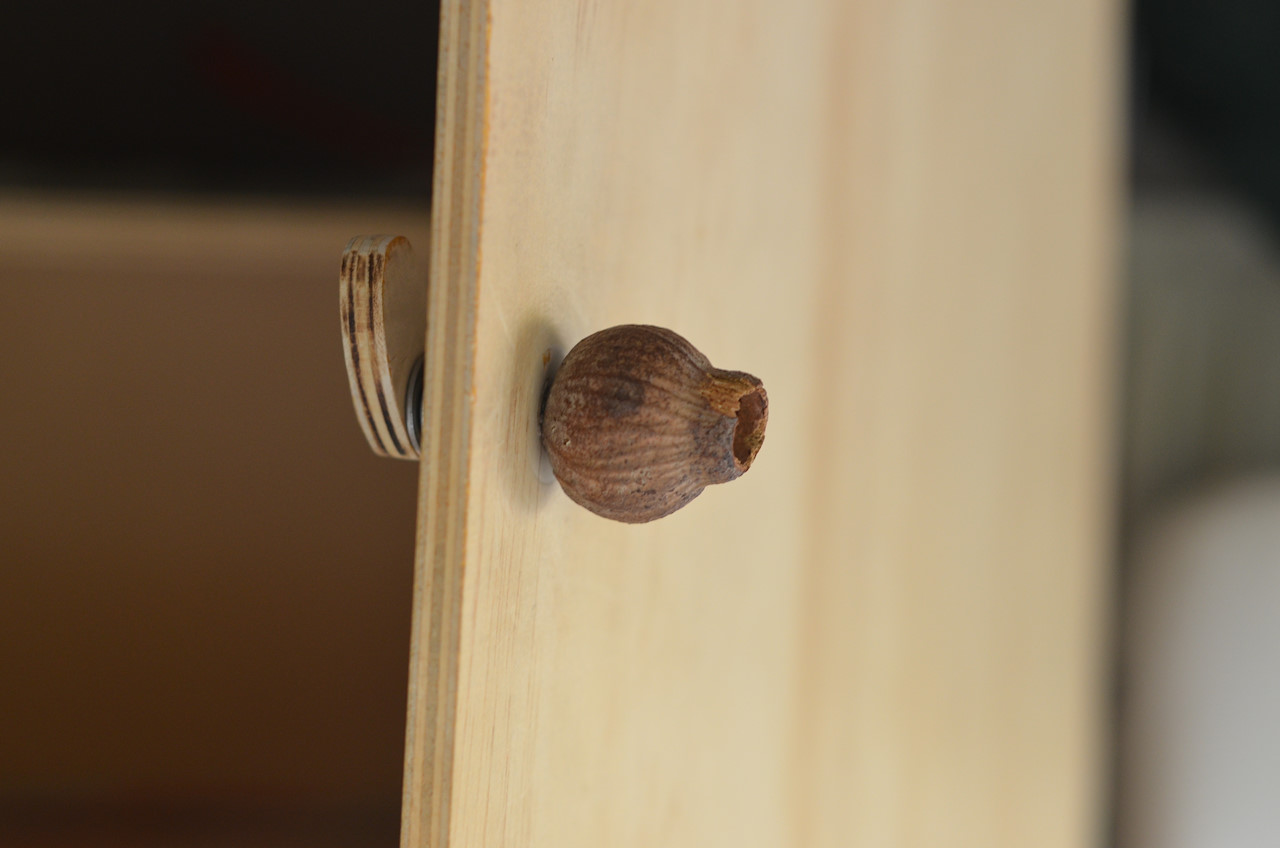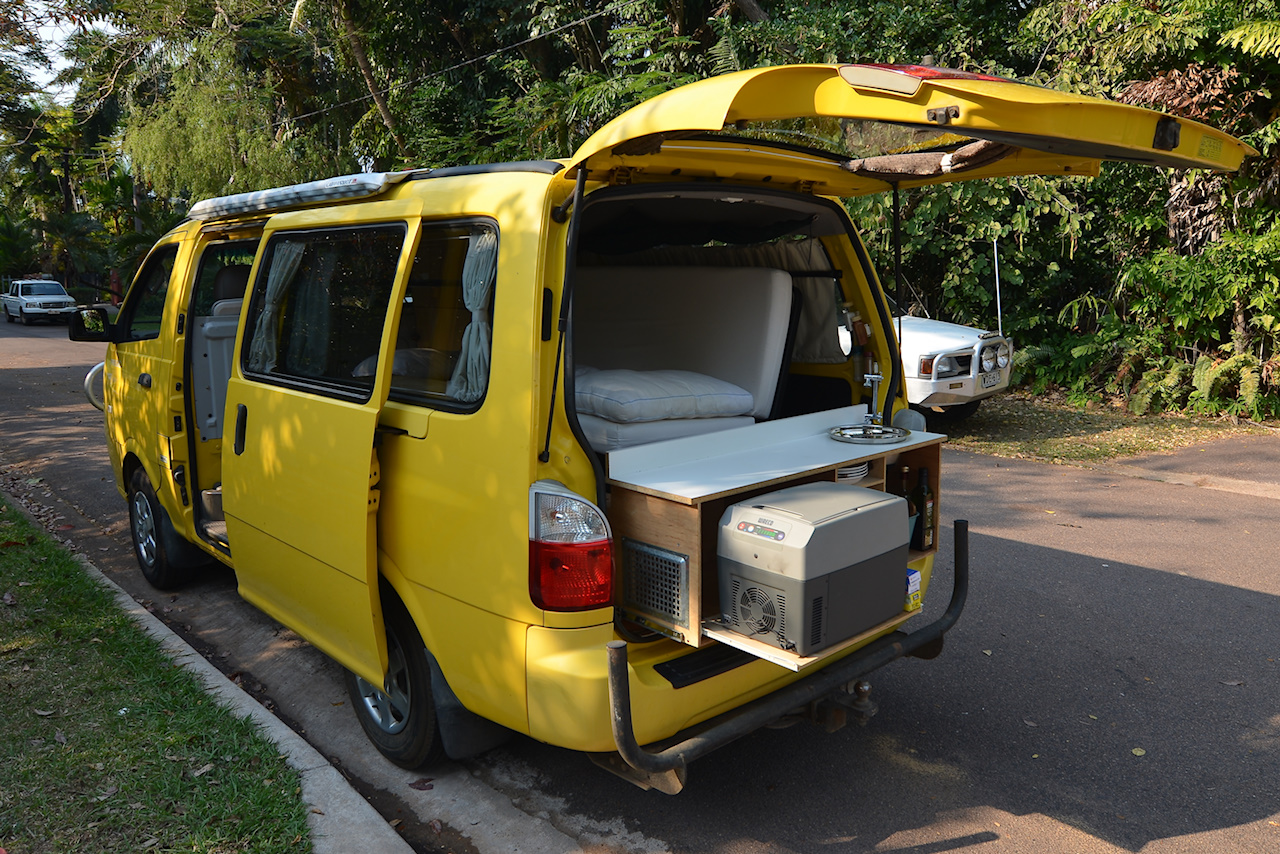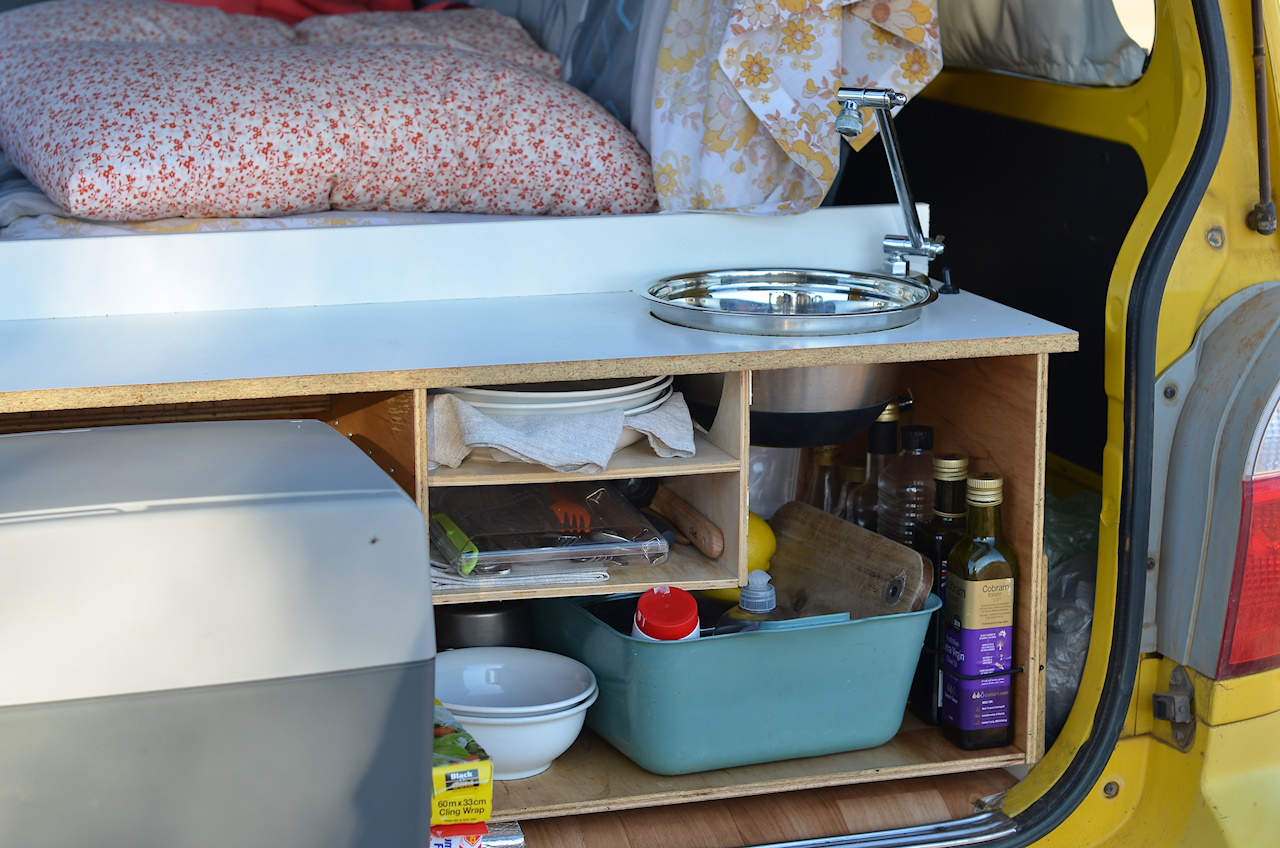 We won't tell you…
– that we had to cut off the end of the bed because when open it sat over the kitchen instead of its base. ( Measure twice and cut once is Graham's motto that we'll remember)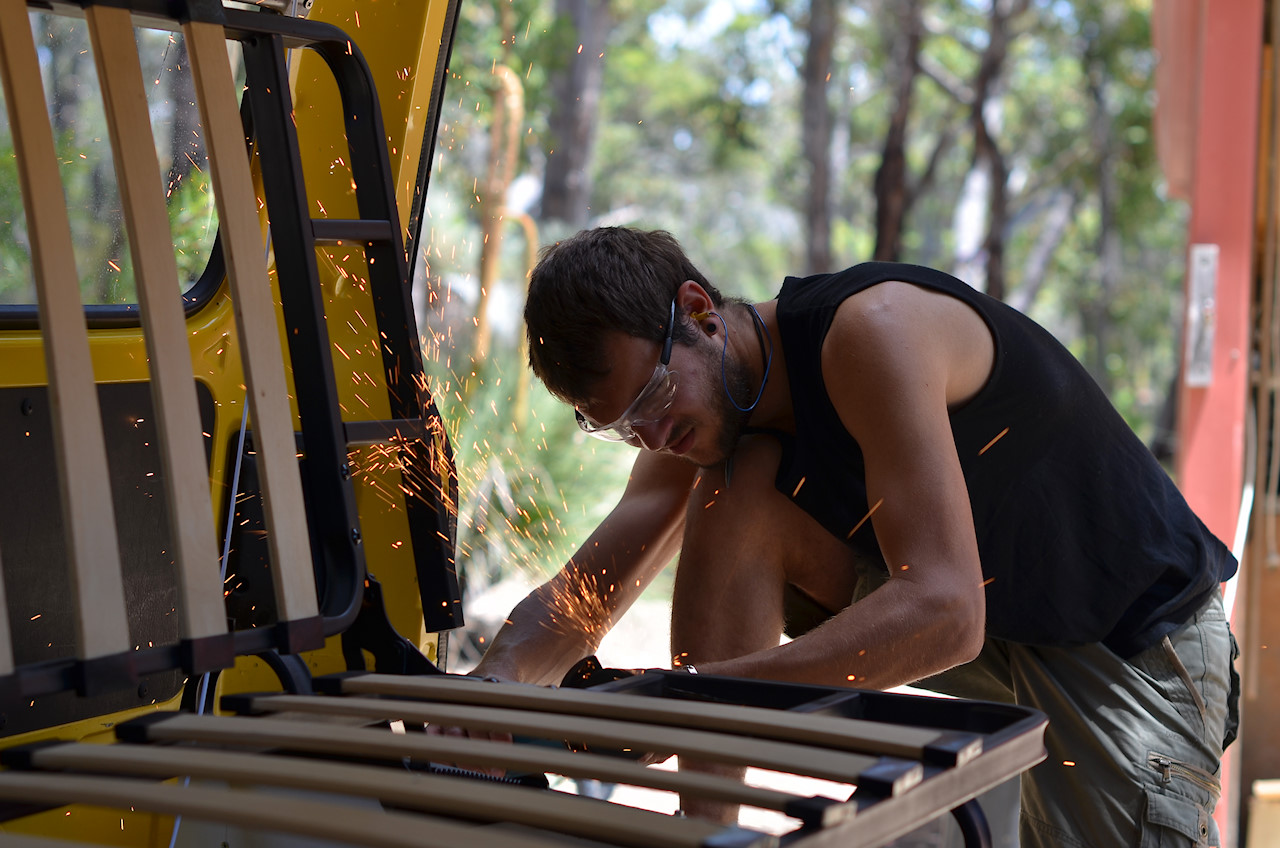 – that we made a magnificent insulated housing to protect our fridge, from insulation at Alberts
building site… but that it would not go into the space as planned… too much tailoring kills the tailoring.

– that one of the kitchen sliders fell in the sand. There followed two hours of cleaning. Hurrah for WD 40 (and we won't say who was responsible…)
– that we melted down Albert's camping stove when we where working with him. (Again we won't say who was responsible…)
– that we were left several times with the cupboard's contents all over the van as we had taken a corner a bit fast, because our closure system was not the best…
– that the coachwork got dented under our weight because we were watching the stars, one night on the Nullarbor plain…
Fun facts  :
22913 km travelled
2600 $ fuel (about 1800€)
7,5 months living in it.
2 oil change (including a wild one)
1 light lost on a very long corrogated road
0 kangaroo hit but 1 wombat almost
Translated by Graham